"Kuroe" the town of Kishu Lacquerware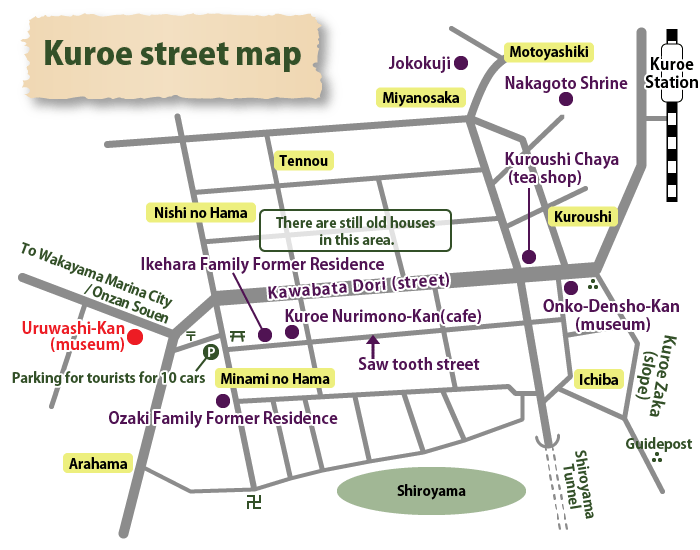 Within the city scape of Kuroe, the old residential areas and workshops of lacquer workers and warehouse dealers line the 12m wide street for 230m in saw-tooth formation along the street, near Kawabata street. There is a quaint, simple and settled atmosphere, creating an original scenery.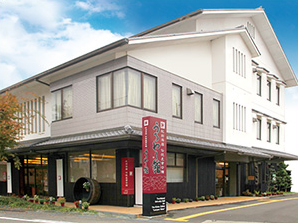 Uruwashi-Kan (museum)
Various lacquer products, from Negoro coated products, which are original Kishu Lacquerware, to accessories, etc., are exhibited and can be purchased at the sales corner. Visitors are especially impressed with the jumbo lacquerware products display.
To experience lacquer maki-e in the hall, please make a reservation. Videos introducing Kishu Lacquerware techniques can also be viewed.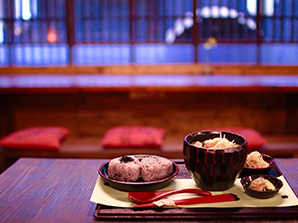 Kuroe Nurimono-Kan (cafe)
A traditional Japanese house built as a workplace and residence for lacquer worker 180 years ago during the late Edo Period, which has been renovated into a cafe. Enjoy lunch at cafe served on lacquerware. Lacquerware for daily use, antiques, and creator artwork are also available.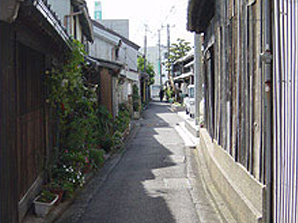 Saw tooth street
Workplaces and warehouses of traditional lacquer workers were built along the road with a certain angle, forming a "saw tooth" pattern. Houses with "Kishu lattice grid," plastered walls with exposed timber pillars, and low houses with gabled roofs are aligned to maintain the traditional atmosphere.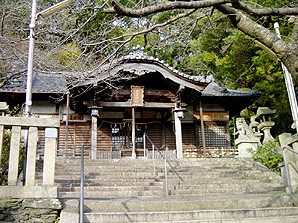 Nakagoto Shrine
From the grounds of Nakagoto Shrine, flow "Kuroushi (black cow) water" considered to be "one of the best water sources in Kishu." In the Nara Period, the ocean reached into the foot of the mountain where Nakagoto Shrine is built. The area was called Kuroushi lagoon, named after a rock shaped like a black cow. Manyoshu (Anthology of 8th Century Japanese Poetry) contains a song about Kuroushi Lagoon.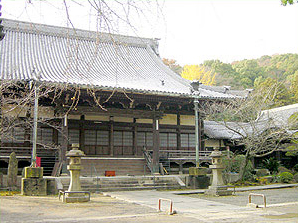 Jokokuji
Jokokuji is a Buddhist temple with a long and distinguished history, commonly known as "Kuroe no Gobou san." It has dignified, refined atmosphere, with the floor of inner sanctuary of main hall lacquer painted by Kuroe workers, pictures on the ceiling, blue stones of Kishu are placed in Jodo Shinshu's oldest borrowed scenery rock garden, an artificial hill shape resembled Mt. Horai, and panel paintings of Gion Nankai.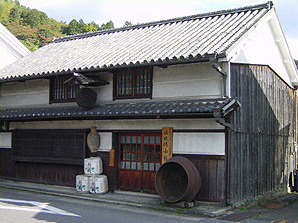 Onko-Densho-Kan (museum)
Onko-Densho-Kan is resource center on sake manufacturing located in an old sake storehouse. Sake brewing methods, tools, and business record from the Edo Period are exhibited. In the rest area (Kuroushi Chaya) decorated with sake brewing tools, the souvenir corner sells sake, Nara-zuke (vegetable pickles in sake lees) and miso. Samples of sake brewed with "Kuroushi water," famous Kishu water, are also available.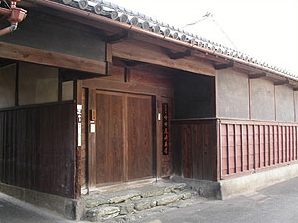 Ozaki Family Former Residence
(Registered Tangible Cultural Property)
As a jishi/jizamurai (provincial samurai) of the Kishu-Tokugawa family, the Ozaki family worked as Isenokuni-Oosugiyama bugyo (magistrate), Aridagawa-Fushin bugyo, and Ama-gun daikan (local governor). The zashiki (sitting room) was built in the middle of Edo Period.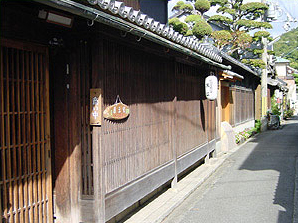 Ikehara Family Former Residence
(Registered Tangible Cultural Property)
A multi-generation lacquerware shop. The residential building was built 220 years ago. A section is open as an exhibit room for specialty items.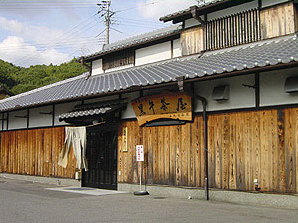 Kuroushi Chaya (tea shop)
A rest area is decorated with sake brewery tools.
Samples of sake brewed with "Kuroushi water," famous Kishu water, are available in the shop.
In addition to selling "Kuroushi" and sake lees from Nate Brewing Company Wakayama specialties such as Japanese peppers and miso, are also available at the improved souvenir corner.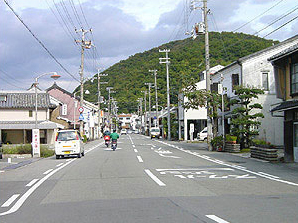 Kawabata Dori (street)
The main road of Kuroe. Facilities are scattered around, such as the Kishu Lacquerware Traditional Industry Hall and Onko-Densho-Kan. Annual events include the Kishu Lacquerware Festival (First Weekend in November) and the Geta Ichi market (evening of August 14). Many shops are aligned on both sides of the street, and are visited by many people.